Grants Pass Branch ~ October 2019 
Upcoming Events:
Grants Pass University Women Charitable Fund's
Fundraiser for College Scholarships
October 19, 2019 – from 9:30 am to 3:30 pm
Fun, Food and Fabulous Kitchens!
Tickets $25  – Available at The Kitchen Company, 301 SW 6th Street or on the day of the event at Newman Methodist Church
(There will be no branch meeting in October since our members are working hard on the Kitchen Tour.)
November 16, 2019, 9:45 am, Fruitdale Grange, Branch Meeting  – Kim DeSimone: College Dreams, The Harder I Work the Luckier I Get!
December 7, 2019, 9:45 am, Countryside Village, Holiday Brunch
Start Smart / Work Smart Salary Negotiation Programs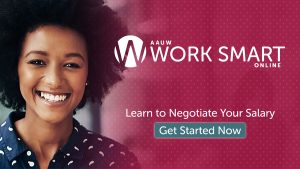 Women in Oregon earned 82 cents for every one dollar men earned in 2017. That translates to an annual salary of $41,572 for women, compared to $50,965 for men in Oregon. (US Census data analyzed by AAUW).
Teaching women to better negotiate salaries is one way to help close the gender pay gap. Start Smart is a workshop aimed at helping college women build skills and confidence to negotiate salaries. Work Smart is designed to help women at any stage of their careers negotiate better salaries and benefits.
Work Smart is now available in an online version! This makes it more accessible to women everywhere as they can log on and take the course at their convenience. It takes about an hour to complete, it's available to anyone and it's FREE! To get started go to: salary.aauw.org
Get Involved! 
Sign up to be a Two-minute activist: https://www.aauw.org/what-we-do/public-policy/two-minute-activist/