AAUW Grants Pass Branch


All Grants Pass

Branch activities, including our annual Frog O'Faire Children's Festival and Kitchen Tour, have been cancelled due to the COVID-19 virus and the health and safety of our members and the community.  Please check back for details about future events.

AAUW of Oregon Stands Against Racism


AAUW of Oregon joins the country and our other branches in other states in mourning the losses of George Floyd, Ahmaud Arbery, Breonna Taylor and countless other people of color who have been unjustly killed across our nation. Our country needs healing. But healing will only come with justice. As an organization we condemn racism.
Systemic racism is firmly rooted in the U.S. and today's injustices mirror our shameful history — from police brutality to the disproportionate impact of COVID-19 on communities of color. There can be no justice or equality when Black and Brown communities are seen as less deserving of basic human and civil rights. We in Oregon have seen this in our own history.
On behalf of our 1300 members and supporters, we commit to fighting for justice, long-term and lasting change, and we stand in solidarity against racism. We also acknowledge that as an organization we have our own work to do.
AAUW of Oregon will continue to advocate with strength and urgency for a time when safety and justice are rights shared by everyone.

AAUW
Start Smart / Work Smart Salary Negotiation Programs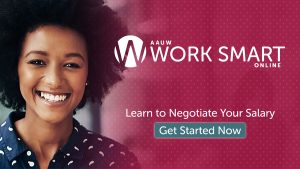 Work Smart

is now available in an online version! This makes it more accessible to women everywhere as they can log on and take the course at their convenience. It takes about an hour to complete, it's available to anyone and it's

FREE

! Click HERE to get started.

AAUW of Oregon Public Policy



Get involved!   Click HERE to become a Two Minute Activist